♥ PARANOID ILLUSION ♥

1. Hi.
2. I'm as
GOOD
as they come.
3. Photography is my LOVE.
4. I love doggies - cute, furry.
5. Airplane is my only favourite song.
6. I wish for a
never-ending list
of things.
7. Age 21. Student of UCSI. Food Science and Nutrition.
Tiffany Lau
Create your badge
my Beloved Family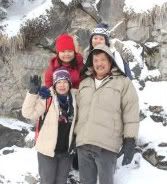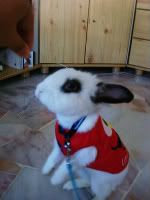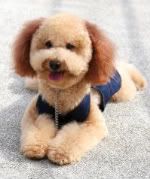 Wednesday, December 10, 2008 / 12/10/2008 09:00:00 PM
hello..
my name is WHISKY
i'm a super red male toy poodle..
i'm 3 months old now..
my DOB is 11th september o...
remember to give me present during my birthday lah!!!
my mummy is Tiffany ...
i'm adopted by the Lau family..
my popo sek me alot alot~~

this is a temporary bed for me..
its actually the lower part of a carrier bag
mummy put in some cloth for me so tat it's abit soft soft...
popo say once i'm toilet train then wil give me a real bed wor..
hehe!

i love to bite like this!!!
then mummy and popo wil say ' whisky... stop... u good boy... stop biting lahhhh'
muahahahaha!!
this is aunty sara
she's helps our family to clean the house..
she's so happy to see me..
she say " whisky.. must fren with aunty sara ar.."
hahaha!!!
of course i wil fren aunty sara lo...
she sayang me alot lah..
i love to sleep!
i used to sleep in the carrier bag at night..
where as in the afternoon..
i love to sleep on the floor..
cuz the floor cold cold de..
i like cold cold...
i hav a rhino and a panda toy~
mummy put a small clock beside me.. so tat i wun be scare in the night o~
i oso can sleep like tat~
hehehehe!
how come mummy curi curi take picture 1????
yeeeee.. paiseh lah.....
yeeeeee?
why i got baju geh?
its actually Louis 1 lo..
Louis is my rabbit brother lah
mummy say Louis now very fat edi.. old baju all cant wear..
she scare i catch a cold..
so give me this 1 temporary..
mummy say wanna buy skirt for me.. but im a male wor??
hehehe!!!
pose for mummy to take picture...
she wil sayang my head later on and say : 'whisky good boy...'
because always when she wanna snap i wil move here move thr..
seldom wil stand straight let her snap lah...
i'm a notty boy...
hehe~ 1 more post for u lah
i've been diarrhea for this few days..
mummy scared i wil die lah..
cuz i didnt wanna eat anything or drink anything
maybe cuz i'm not used to the environment lea..
i scare scare?
mummy rush to pet shop today to buy me some canned food and oso diarrhea medicine..
this few days mummy hav to use syringe to feed me water and food
and the notty me dun wanna open my mouth!
they hav to korek korek..
then put water terus for me..
i dun like lah...
sometimes i wil vomit out...
dunno when i wil start eating..
mummy so worry lea..