♥ PARANOID ILLUSION ♥

1. Hi.
2. I'm as
GOOD
as they come.
3. Photography is my LOVE.
4. I love doggies - cute, furry.
5. Airplane is my only favourite song.
6. I wish for a
never-ending list
of things.
7. Age 21. Student of UCSI. Food Science and Nutrition.
Tiffany Lau
Create your badge
my Beloved Family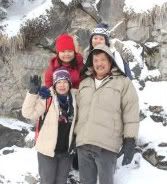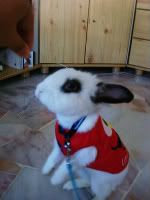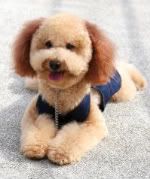 Thursday, September 4, 2008 / 9/04/2008 06:13:00 PM
i'm goin to introduce to all of u guys the best wan tan in the world!
which is handmade by ME, TIFFANY LAU HWEE WEN!
woooo hooooo~
excited! happy!
Let's start!~
follow the step above and u wil get to taste the best wantan in the world~
hehehehehe~
1st...
u nis some prawn
of course the fresh prawn is most wanted instead of those frozen prawn~
peel the prawn and wash it ~
remove the shit k?
prepare the minced meat
how much do u nid?
agak agak la..


add in prawn wif the meat~
and then add in the chicken powder
salt
sugar
pepper~
mix everything TOGETHER~
wrap everything wif the cling wrap~
and put it back into the fridge~
~ let the meat sit in the fridge for few hours ~
put some meat on the wan tan skin and wrap it~
how to wrap it?
depends on ur creativity~
and then apply the flour water on the edge of the skin to glue the skin together~
there is goes the wantan tat chef TIFF wrap..
look like a piece of art isnt it?
waaahahahaha~
like a flower~~
i din noe tat i'm so clever in wrapping wantan until my mom tought me few years ago~
look at the wan tan~~
woooooW!!!
all in same size
not even 1 pecah~
i'm proud of myself!
yooo hoooo~
boil the wan tan in the hot boiling water~
how to noe whether its cook onot??
look at the wantan
when the wantan float on the hot boiling water
means its COOK~
drain out the wantan
u wil find tat the water used to boiled the wantan is sticky and starchy~
the reason y not to put the wantan into the soup and boil it til it cook is because the wantan wil make the soup sticky and starchy
whr i found its abit not so nice to drink starchy soup~
add in the soup tat u boil earlier
of course u hav to heat it up..
add in some fried onion as well~
a simple and yummylicious wantan soup is DONE~
ready to serve~
is it yummy?
oh yeah, the wan tan is lovely~
if u wanna deep fried it, add in some water chessnuts , it wil taste absolutely YUMMY~
oh yeah~
i'm so proud of myself~~
why do i say this is the best wantan in the world?
ahaha~
cz its make by myself
of course its the best
hehehe!
****************************************************************************
~ pics to share ~

its me its me~
bringing louis to school ~
as my frens require to see him..
cutie louis sitting in the carrier bag~
i'm in the chemistry lab..
the experiment of the day not disect rabbits o~
hahaha!!!

a carrier bag for louis..
specially for rabbits..
although its small..
but i feel its juz nice for him..
those looks like gal's handbag is abit not too good i think..
not only big~
but too deep..
this is juz nice for my baby louis~
see? the guai guai louis~ sayang sayang
my cutie baby louis...
talking on handphone
" hello? baby louis speaking.. who are u?? salah nombor kah??"
hehehehe~
louis new hat
which is my camera pouch~
hahaa~
he look so cute no matter in wat way~
i love u baby louis~
muack!