♥ PARANOID ILLUSION ♥

1. Hi.
2. I'm as
GOOD
as they come.
3. Photography is my LOVE.
4. I love doggies - cute, furry.
5. Airplane is my only favourite song.
6. I wish for a
never-ending list
of things.
7. Age 21. Student of UCSI. Food Science and Nutrition.
Tiffany Lau
Create your badge
my Beloved Family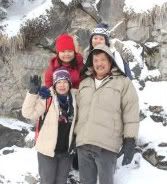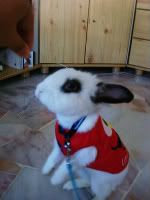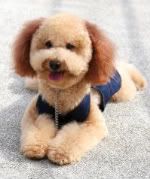 Sunday, August 17, 2008 / 8/17/2008 11:41:00 PM
* Sakae Sushi @ Sunway pyramid *
here we come to SAKAE SUSHI to celebrate zyrence bday~
actually we wanted to go for shabu shabu train
but the environment is abit too....cheapo~
so we decided to makan sakae sushi lo!
hehehe
i expect something really GREAT from them as every1 were talking bout sakae sushi recently~
but.........
something impress me is tat u order ur sushi through computer~
hahaha~
very 'in' to me...
something really good here is tat wat u nid is all thr~
hot water for the greentea
tissue paper ( take as much as u can )
chopstick
small plate for the soy sauce
big plate for makan
very convenient as we dun nid to keep ask the waitress to refill the greentea~
we order the Party Set as we hav 6 ppl who loves sushi~
errrrrr...
ntg really special for their sushi~
something special is tat they hav the crunchy prawn wrap in sushi~ and then wrap wif cheese~
yummylicious!!!
errr~ i found out tat the sushi is not 'padat' enough~ u cant hold it wif chopstick~
haiz~
disappointing ler~
a soft shell crab handroll which is my must order item when i visit japanese restaurant~
very very very little soft shell crab inside~
haiz~~~
they name this Avocado roll~
i tot tat this wil be GREAT~
as i love avocado ALOT!
but...
look at the sushi..
can u see avocado?
yes~ there is avocado~but SUPER TINY til its negligible~~
haiz~
disappointing~
bill come up to RM100+
haiz~
disappointing ler
wil not visit them again!!!
the environment thr is SO HOT!
i'm sweating while eating!!!
yea~ the price is affordable..
but...
the food is~~
***********************************************************************
Pics to share~
was too boring while waiting for them ~
so i decided to go for archery!!!
wehehehehehe~~
my very 1st time!!
tat's me!!!
hehehehe~
so yeng lea?????
the ppl thr wil teach u how to play if u dunno~~~
wow~~~
i look like the gal in Narnia lea~~~
muahahahahahah~
mine!!!
see??
geng rite?
wonder why i dun go and take part in Beijing Olympic
such a waste as msia miss out me as i'm so berbakat~
the coach tat teach me give me comment : berbakat!!
see????such a waste tat i din take part in olympic~~
haiz~
*** forgive my Syok Sendiri ya~ ***