♥ PARANOID ILLUSION ♥

1. Hi.
2. I'm as
GOOD
as they come.
3. Photography is my LOVE.
4. I love doggies - cute, furry.
5. Airplane is my only favourite song.
6. I wish for a
never-ending list
of things.
7. Age 21. Student of UCSI. Food Science and Nutrition.
Tiffany Lau
Create your badge
my Beloved Family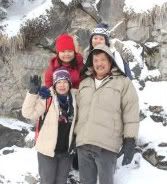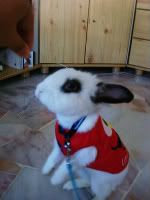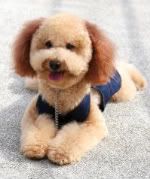 panmin
Wednesday, August 20, 2008 / 8/20/2008 08:48:00 PM
me , siao ying and edmond went to wangsa maju are for our lunch~
we FORCE edmond to join us~ hehehehe!!
few days ago cheng luan say tat wangsa maju are hav a pan min shop tat opened not long ago.
we decided to give them a try as luan say the pan min are not bad~~
hehe~
edmond order the Mama Pan Min
funny name isnt it???
hahahaha~
according to edmond~ no mama taste!
hahahah~
siao ying go for the soupy version of fried fish cakes pan min~~~
she comment tat the pan min NOT BAD lo...
juz 1 thing~
the chili NOT YUMMY!!
hahaaa~
the chili Queen say the chili not yummy
means its really not yummy!
hahahaha
as for me..
i go for the zha jiong pan min
i EXPECT something really special from them..
but found out tat this pan min isnt special at all lah....
come wif 2 meatballs~fried fishcakes and the minced pork~
errr~ the pan min is abit to little i think~
very small portion~
All the above pan min cost RM4.90 for the small version~
ntg special to shout out about ler~~
* sorry for the blur blur picture ~ my nokia N80 definetely
works
but the light in the shop is abit too dark *
********************************************************
~ Pics to share ~

( pics taken using my Nokia N80, to prove tat my N80 actually works! haha )
we were doing Solvent Extraction for our chemistry practical~
the apparatue for solvent extraction~
hehehe~
saw 2 seperate layer of liquid~
actually they are mix together~
the reason to do solvent extraction is to seperate both the liquid~~
the apparatus are so ' IN' until it keep leaking~
and the 'lock' cant be open~
how accurate is my experiment?
to be honest~ 1 of them FAIL~
hahaha
haiz~
my trial timetable~~
( my pretty handwriting isnt it??? hahahaha * perasan * )
its coming soon~
but i'm stil playing around~
DS mario i've reach World 5
play wif louis~
go out wif mom!
haha~
im enjoying my holiday~
and i think i'm gonna DIE in my coming trial~~~