♥ PARANOID ILLUSION ♥

1. Hi.
2. I'm as
GOOD
as they come.
3. Photography is my LOVE.
4. I love doggies - cute, furry.
5. Airplane is my only favourite song.
6. I wish for a
never-ending list
of things.
7. Age 21. Student of UCSI. Food Science and Nutrition.
Tiffany Lau
Create your badge
my Beloved Family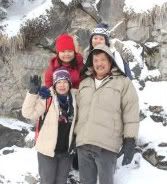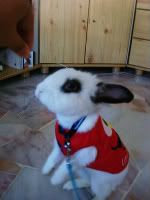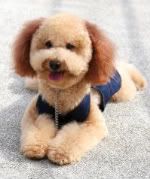 ming huang guan
Monday, August 4, 2008 / 8/04/2008 08:21:00 PM
dad and mom saw this shop 's advertisement on the media focus magazine...
so we decided to give them a try!!
ming huang guan~明煌馆
situated at kepong~
juz as the same roll as Wings~
dad get attracted by the words 上海灌汤小笼包
once we step into the shop~
i found out tat their business not bad lo~~~
dad say : if business stil bad after put up advertisement~ then they hav to wait to 'close door' lo
hahaha~
the usual pu er tea~~
dad order the shrimp pork dumplings ramen鲜肉抄手拉面
i found out tat the dumpling is yummy~
whole prawn + some pork inside~~
there are the deep fried dumplings and oso the soup version dumpling~
dad give me the deep fried dumpling!
yummylicious!!!
like it!
cost us RM6 for this~
pretty cheap isnt it?
where as for me~
i order the peanut and spicy ramen
上海摊摊面
i hav to say tat this ramen is very special..
y i say so nea??
cuz at the bottom of the bowl of mee..
there are peanut sauce~
miz the peanut sauce and the soup together~
the soup taste so good~~~
of course the peanut taste is so good!!!
i kinda like this..
but too bad~~
only some minced meat and eggs on top...
ntg else~
RM6 for this as well!
as for the side dishes~
we order the dumpling !!!锅贴
the dumpling here is SO FAT!
i mean VERY FAT!
lots of meat~
i kinda shocked when it 1st served~
gosh! really HUGE and LOTS OF MEAT inside~
kinda scary la~~~
i was keep complaining tat the dumpling is too fat!
this is the steam dumplings wif shrimp roe~多汁鱼子烧卖
the display pic look so good~
but when it served~
it look so ugly~
not 'standing straight'
and i dunno y the senget 1 is abit black in colour~
errr~
ntg nice to shout out~
juz like normal dim sum lo~
RM3.80 for 3 biji of this!
this is the xiao long bao!
very very soupy inside!
and the soup is BURNING HOT!!!
gosh!!!
of course to suck the soup and then only put into ur mouth~~~!!!
i feel the xiao long bao here not bad lo~~~
as for dessert~榴莲pancake
i order the durian pancake!
which is my favourite!
tat time went garden and try once b4~
in love wif it!!!!
this is not as nice as the garden's 1~
maybe i bias??
the garden 1 look more tempting of course~
and the garden 1 contains more durian flesh than cream~
unfortunately~ this 1 hav lots of cream instead of giving more durian flesh!
this is the Free 'Gift'
i think because we eat too much or wat~
they serve us the japanese cucumber~~
the japanese cucumber is cut into pieces~
and then mix wif some soy sauce~
and oso some sesame sead on top of it~
i din touch this!
all because my dad and mom 'sapu' everything
according to dad~
this japanese cucumber is yummy and crispy!!!
overall the food here is ok lahh..
ntg nice to shout out about!