♥ PARANOID ILLUSION ♥

1. Hi.
2. I'm as
GOOD
as they come.
3. Photography is my LOVE.
4. I love doggies - cute, furry.
5. Airplane is my only favourite song.
6. I wish for a
never-ending list
of things.
7. Age 21. Student of UCSI. Food Science and Nutrition.
Tiffany Lau
Create your badge
my Beloved Family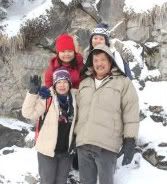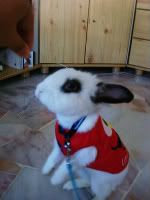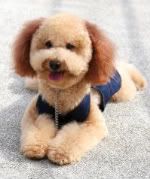 sy 19th bday~ nando's
Tuesday, May 13, 2008 / 5/13/2008 12:30:00 PM
HAPPY BIRTHDAY SIAO YING
got to celebrate birthday wif sy as some1.....
heng!
so me and siao ying went to NANDO's to celebrate her bday!
hehehe~
there's been quite a long time i din step into nando's
cuz there are many things to makan~
recently i eat lots n lots of things~
haih!
getting fatter and fatter~
plus up todays nando's~
gosh!
i'm dai fei mui edi la~~~~~
NANDO's
famous wif its peri-peri grilled chicken~
there are MILD , HOT and EXTRA HOT flavour for u to choose~
i called this the
chicken rack
~
hahahaha~
cuz the rack for putting the sauce hav a big chicken head on it!!
sy
: its chicken head meh???
tiff
: not obvious meh?
4 types of sauce u can get on the chicken rack
the
extra hot,hot,garlic and tomato
~
i never try any of tis b4..
simply because i'm ori~ i dun like to dipped my food wif sauce~
we choose the PERI SOUP AND BREAD as our appetizer
wow~~
we love the soup and the bread!!
if i'm not mistaken..
its cream of chicken plus cream of mushroom soup.
the combination of this 2 soup~
is soooooo gooood~
smells good~taste good!
and the soup is a little bit spicy~
juz a little bit~
tis is
FINGER LICKING GOOD!



the soup comes wif 3 slices of bread~
yum yum~
bread wif garlic spread~
and 'bakar' a little bit~
CRISPY!
wow~
the garlic smell is sooo goood...
yum yum~
u can either dipped it wif the soup~
or juz eat like tat~ its good enough~
i order the QUARTER CHICKEN WIF 2 SIDELINES
i order the HOT version~
as i cant tahan spicy alot~
so i better not to try the extra hot version~
the chicken is perfectly grilled!
yummy!
but i found out tat its a bit too dry~
maybe they grilled it tooo long~
anyway~
its stil yummy eventought its abit too dry
as for the 2 sidelines~
i choose the PERI CHIPS
and
PERI POTATO SALAD~
chips is nice~
potato salad not so yummy~
dun really like it
sy hav the same as mine..
juz tat she order the extra hot version~
she is
phD
in eating spicy~
so ofcourse she wil go for tis extra hot version~
its yummy~
siao ying like it~
hehehe
but she say not enough spicy wor..
but when i try hers..
i feel like killing myself!
hahahaha
as for the sidelines
sy go for tis MEDITERANEAN RICE
and PERI CHIPS
the rice taste sooo goood!!!
but we dun like the green peas!
yerrrrr~
CHIPS is
GOOOOOOOOD!
as i shop at pavillion on last saturday~
i walk pass the
BREAD TALK
~
and i saw very nice cake~
beautiful cake~
actually wanna buy 1 cake.
but thinking tat we cant finish it..
so i decided to get slices of cake from
BREADTALK



the 1 at the left is another kind of chocolate cake..
the 1 at the right is greentea flavour~
as we are TOO full
we manage to try the greentea flavour only~
its yummt~
strong greentea smell~
i like it~
sy like tis as well~
the other 2 pieces of cake sy da bao home to makan~
cuz we really too full edi~
a card from me to siao ying~
as we have appointment wif mr low at 1pm..
we rush back school~
before tat..
we wanna buy lunch for mr low cuz 1pm suppose to be his unch time~
and he sacrifice it juz for us~
we walk up and down and up and down wondering wat to buy~
and then we saw this sushi which is freshly made~
so we buy tis for mr low~
the rainbow set sushi~
mr low say he usually wun go out for lunch~!
cuz when he come back he wil hav lots of problems to solve~
he says its better to sit thr and solved all problems on the spot!
ahahaha~
mr low say the sushi taste not bad~
he eat the sushi while teaching us~
and i learn alot from him~
thx mr low for ur guidance~
if u ever read my blog~
i really thank you sincerely from my heart~
u're a great teacher!
thanks!